Fiberglass Door Installation
Professional Fiberglass Door Installation and Replacement in San Francisco Bay Area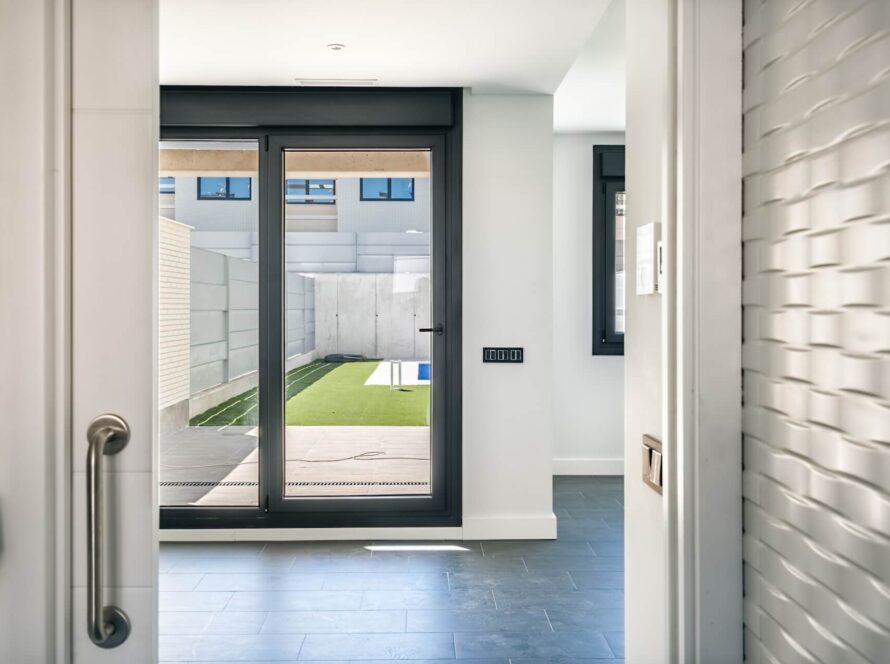 We're not just experts in fiberglass door installation and replacement—we're your neighbors in the San Francisco Bay Area, dedicated to enhancing your home with durable, energy-efficient solutions. With our transparent pricing, same-day service options, and a quality guarantee, we provide peace of mind alongside unparalleled craftsmanship. Trust us for a seamless upgrade to your property's security and curb appeal. Ready for an exceptional service experience? Contact us today.
Why Choose Fiberglass Doors?
Fiberglass doors offer a multitude of benefits that make them an ideal choice for homeowners and businesses alike. Here are some key advantages:
Durability: Unlike wood or metal doors, fiberglass doors resist warping, denting, and rusting, ensuring a long-lasting, maintenance-free lifespan.
Energy Efficiency: Fiberglass doors provide excellent insulation, helping to keep your home warm in the winter and cool in the summer, which can lead to lower energy bills.
Aesthetic Flexibility: Available in a wide array of designs, fiberglass doors can mimic the look of wood or come in smooth finishes that can be painted to match any décor.
Weather Resistance: They are resistant to the effects of moisture and do not shrink, swell, or rot, making them perfect for the varying San Francisco Bay Area climate.
Low Maintenance: These doors require minimal upkeep, typically just needing a simple cleaning rather than regular painting or staining.
Security: Fiberglass doors are robust and can be fitted with advanced locking systems to provide a high level of security for your property.
Cost-Effective: They offer a great balance of affordability and performance, often proving to be a cost-effective alternative to traditional materials over time.
By choosing a fiberglass door, you're investing in the future of your home or business with a product that combines strength, efficiency, and beauty.
Our Services
We specialize in the professional installation and replacement of fiberglass doors. Our skilled team of installers is dedicated to delivering top-tier services tailored to enhance the functionality and aesthetic appeal of your home or business in the San Francisco Bay Area.
Fiberglass Door Installation
The installation of a new fiberglass door is a process that demands precision and expertise. Here's how we ensure a seamless installation experience:
Initial Assessment: We begin with a thorough assessment of your entryway to ensure that a fiberglass door is the best fit for your needs.
Accurate Measurements: Precision is key, so we take exact measurements to guarantee that the door fits flawlessly within your space.
Professional Fitting: Our experienced technicians expertly fit your new door, making sure it opens and closes smoothly and is perfectly aligned.
Sealing and Insulation: We ensure that the door is properly sealed and insulated, minimizing drafts and improving energy efficiency.
Finishing Touches: Our installation isn't complete until we've added any finishing touches, such as trim and hardware, and performed a final inspection to ensure the highest quality.
A professionally installed fiberglass door not only enhances the look of your property but also contributes to better energy conservation and increased security.
Fiberglass Door Replacement
When it's time to replace an old or worn-out door, our replacement process involves:
Detailed Inspection: We conduct a detailed examination of your existing door and frame for any signs of damage or wear that may affect the new installation.
Choosing the Right Door: We help you select the perfect fiberglass door that meets your style preferences and functional requirements.
Removal of the Old Door: Our team carefully removes your old door, taking care to prevent any damage to the surrounding walls and entryway.
Frame and Threshold Preparation: We prepare and repair the existing frame and threshold to ensure they are level and ready to support your new door.
Installation of the New Door: With precision, we install your new fiberglass door, ensuring it is perfectly aligned and operates smoothly.
Weatherproofing: We expertly seal the door and check for any gaps to prevent water ingress and air leaks, improving the overall energy efficiency of your doorway.
Final Assessment: A thorough check is conducted post-installation to guarantee that the door replacement meets our strict standards for quality and performance.
A proper door replacement not only revitalizes the look of your home but also provides you with a secure, weather-tight entryway. Trust Console Home Improvement for your fiberglass door installation and replacement needs, and enjoy the peace of mind that comes with having the job done right.
Types of Fiberglass Doors We Install and Replace
Explore the variety of fiberglass door options that Console Home Improvement brings to your doorstep in the San Francisco Bay Area. Our professional services cover the installation and replacement of all types of doors. Such as:
Entry Doors: These are perhaps the most common type of fiberglass doors used for the main entrance of homes and buildings.
Patio Doors: Specifically designed for use as entrances to outdoor spaces like patios and decks, often featuring glass panels to allow for natural light and views.
Smooth-Finish Doors: These doors have a sleek, paintable surface, offering a contemporary look and the ability to match any paint color.
Textured or Wood-Grain Doors: Designed to mimic the look and feel of real wood, these doors provide the aesthetic of wood with the benefits of fiberglass.
Flush Doors: Simple in design without any panels or glass, offering a clean look that can blend with various architectural styles.
Panel Doors: Featuring raised or recessed panels that add dimension and architectural interest to the door's appearance.
Decorative Glass Doors: Incorporating glass panels with decorative elements such as stained glass, frosted glass, or etched patterns.
Craftsman Doors: These have a distinct style often featuring a Shaker-inspired look with straight lines and a no-frills approach to design.
French Doors: Characterized by their full-length glass panes, they add a classic, open feel to any space.
Dutch Doors: Unique in that they are divided horizontally, allowing the top half to open while the bottom half remains closed.
Security Doors: Reinforced fiberglass doors designed to provide enhanced security features.
Energy-Efficient Doors: Specifically engineered to provide superior insulation, often with additional sealing and energy-saving features.
Impact-Resistant Doors: Built to withstand severe weather conditions, such as those found in hurricane-prone regions.
Commercial Doors: Heavier and more robust doors designed for commercial buildings, meeting higher durability and fire-rating standards.
Custom Doors: Fiberglass doors that are made to order according to the specific design preferences, sizes, and requirements of the customer.
Why Console Home Improvement?
When it comes to installing and replacing fiberglass doors in the San Francisco Bay Area, Console Home Improvement stands out as a beacon of excellence and reliability. Here's why choosing us is your best step toward enhancing your home or business's functionality and curb appeal:
Decades of Experience: Our skilled team brings a wealth of knowledge and expertise to every project. This experience ensures that every installation or replacement is performed with the highest level of precision and skill.
Certified Expertise: We take pride in our team's professional qualifications, which attest to our commitment to ongoing education and mastery of the latest installation techniques and products.
Special Qualifications: We bring a unique set of skills and qualifications to our work, including specialized training in energy-efficient installations, advanced security features, and customization options to meet the specific needs of our clients.
Transparent Pricing: There are no hidden fees. We provide clear, upfront pricing so that you can make informed decisions without any surprises.
Personalized Consultations: We believe that each client deserves an individualized approach, which is why we offer personalized consultations to understand your unique needs and preferences.
Quality Guarantee: Our work isn't just about meeting expectations—it's about exceeding them. That's why we offer a quality guarantee on all installations and replacements, giving you peace of mind that your investment is protected.
Benefits of Professional Fiberglass Door Installation
By choosing Console Home Improvement, you ensure your property benefits from:
| | |
| --- | --- |
| 👨‍🔧 Expertise | Specialized Experience |
| 🌉 Local Knowledge | San Francisco Bay Area Familiarity |
| 🛠️ Customization | Tailored Designs |
| 💡 Energy Efficiency | Cost-Saving Installations |
| 🏗️ Durability | Quality Materials |
| 🔒 Security | Enhanced Protection |
| 📜 Warranty | Guaranteed Service |
| 🤝 Free Consultation | No-Cost Assessment |
| 💲 Competitive Pricing | Affordable Excellence |
| 🌟 Customer Service | Satisfaction Commitment |
Understanding the Cost of Fiberglass Door Installation and Replacement
Investing in Quality: The Price of Fiberglass Door Installation in the Bay Area
When considering the cost to install a fiberglass door and frame in the Bay Area, homeowners and business owners alike are looking at an investment that brings with it long-term benefits. The price is not merely for the door itself but encompasses a comprehensive service that ensures your new entryway is as enduring as it is elegant. Several factors influence the cost, such as the dimensions of the door, the complexity of the installation, and any additional features or hardware choices. Our team at Console Home Improvement provides personalized quotes that reflect the meticulous care and premium materials we use for each project, ensuring that your investment yields a high-performing and aesthetically pleasing outcome.
Security with Style: The Cost to Replace a Fiberglass Door
We understand the unique needs and challenges of Bay Area residents, ensuring that the price of peace of mind doesn't come with any surprises. Replacing a door involves not just the removal of the old but the precise fitting and installation of the new, integrating advanced locking mechanisms and robust materials that stand the test of time. Our pricing reflects our commitment to quality and security, ensuring that you have a fortified entryway without compromising on elegance or breaking the bank.
For both installation and replacement, we pride ourselves on providing transparent pricing to our Bay Area clients. We invite you to reach out to us for a detailed estimate tailored to your specific needs, allowing you to make an informed decision that aligns with your budget and security requirements.
FAQ
What is the average cost of a professional fiberglass door installation?
The cost varies based on door size and installation complexity, but we provide a free, no-obligation quote upfront. There are no hidden fees, ensuring transparency in pricing.
How long does it take to install or replace a fiberglass door?
Most installations or replacements are completed within a day. However, custom work may extend the timeframe, which we will communicate during the initial assessment.
Do you offer a warranty for your installation or replacement services?
Yes, we offer a comprehensive warranty for our services, providing you with assurance and support post-installation.
Will the installation process be disruptive to my home or business?
Our team works efficiently and respectfully, aiming to minimize disruption. We protect your property and clean up after the job is done.
Are your technicians certified or trained for fiberglass door installation?
Absolutely, our technicians are trained and adhere to the latest industry standards, ensuring high-quality installations every time.